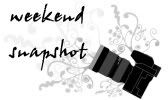 Hello this is my first entry of this weekend snapshot. I tried really to take pictures last Saturday. One of my friends invited myself and my son to their house and met her two other friends which are Thai landers. I took picture their house and them.
The hubby of my friend who was invited me was a deer hunter thats why there some deer skin and head of the deer is there on the wall.

Hope everybody have a great week. Take care and may God bless us all.